In this article, we will explore how I use Basecamp (project management tool) for my freelance projects and discuss how it has proven to be an invaluable asset for streamlining my personal web development projects. We will explore the features and functionalities of Basecamp that have made my workflow easy, making project management a seamless experience. I have been using Basecamp for nearly 3 years, and it continues to do an excellent job of helping me manage my projects.
As a freelance web developer, managing multiple projects simultaneously can be quite challenging. However, with the right project management software in place, such as Basecamp, it becomes incredibly easy to stay organized, collaborate effectively with my clients, and ensure timely project completion.
So, let's dive in and discuss what this tool is all about!
What is Basecamp?
Basecamp is an amazing project management tool that has been around for 23 years. It was co-founded by Jason Fried, who also owned a web design business at that time. The goal of Basecamp is to provide a straightforward, all-in-one solution for project management that simplifies tracking work and progress.
Basecamp is a highly effective tool that empowers teams to maintain organization, promote seamless collaboration, and effortlessly accomplish their objectives. It serves as a virtual command center, providing users with the ability to efficiently oversee tasks, share files, communicate with team members, and monitor progress – all within a single platform. With Basecamp, teamwork becomes a simplified process, guaranteeing that everyone involved remains informed and aligned.
Why did I choose Basecamp over traditional project management?
I've been working as a web developer for almost 8 years, and being part of different teams has introduced me to various project management tools. One thing I've noticed about using these other tools is that you end up needing to juggle a lot of different tools to manage a project. To be honest, this didn't seem like a big deal to me, as I was just a team member waiting for tasks to come in. However, things changed when I started managing my own projects and dealing with clients.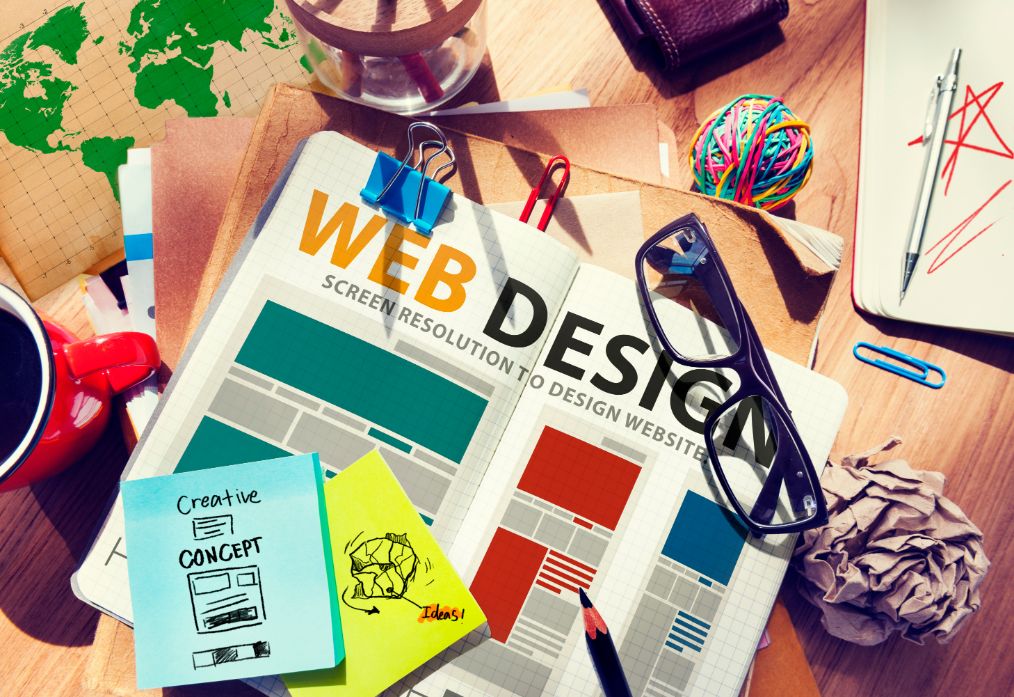 Managing a web development project can be quite challenging, especially for freelancers who have to handle everything themselves. This includes communication, tracking progress, creating tasks, and meeting deadlines, all of which can consume a significant amount of time.
With all of these factors in mind, I am in need of a tool that can help me reduce my project management workload and allow me to focus on more important matters, and this is where Basecamp comes in!
I was first introduced to Basecamp when I started working as a remote developer for a law firm located in Mississippi. Compared to other project management tools I have used in the past, this one was very simple to use.
If I have a new project to start, I can simply add it on Basecamp with just a click of a button. It's incredibly easy and convenient. I can easily set up the project name, project deadline, and the tools I need.
One of the things I like about this tool is its customization feature. I can simply set only what I need. If I don't need the Card table or Campfire, I can just disable them. This is very helpful if you want your project board to be less cluttered.
Minimize working on your website without breaking the bank
I'm here to simplify your website management & development, handling all the technical aspects for you.
Improving My Customer Service with Basecamp's Essential Features
The "Message Box": Easily Find All Important Notes
Have you ever found yourself drowning in a sea of scattered emails, desperately searching for that one important note? Well, the "Message Board," a note-taking feature of Basecamp, is a real time-saver! It eliminates the need for old email threads, which can be difficult to search through.
My clients and I can easily add important notes for the project using this tool. Imagine the convenience of having all project-related discussions neatly organized in one centralized location. No more confusion or miscommunication!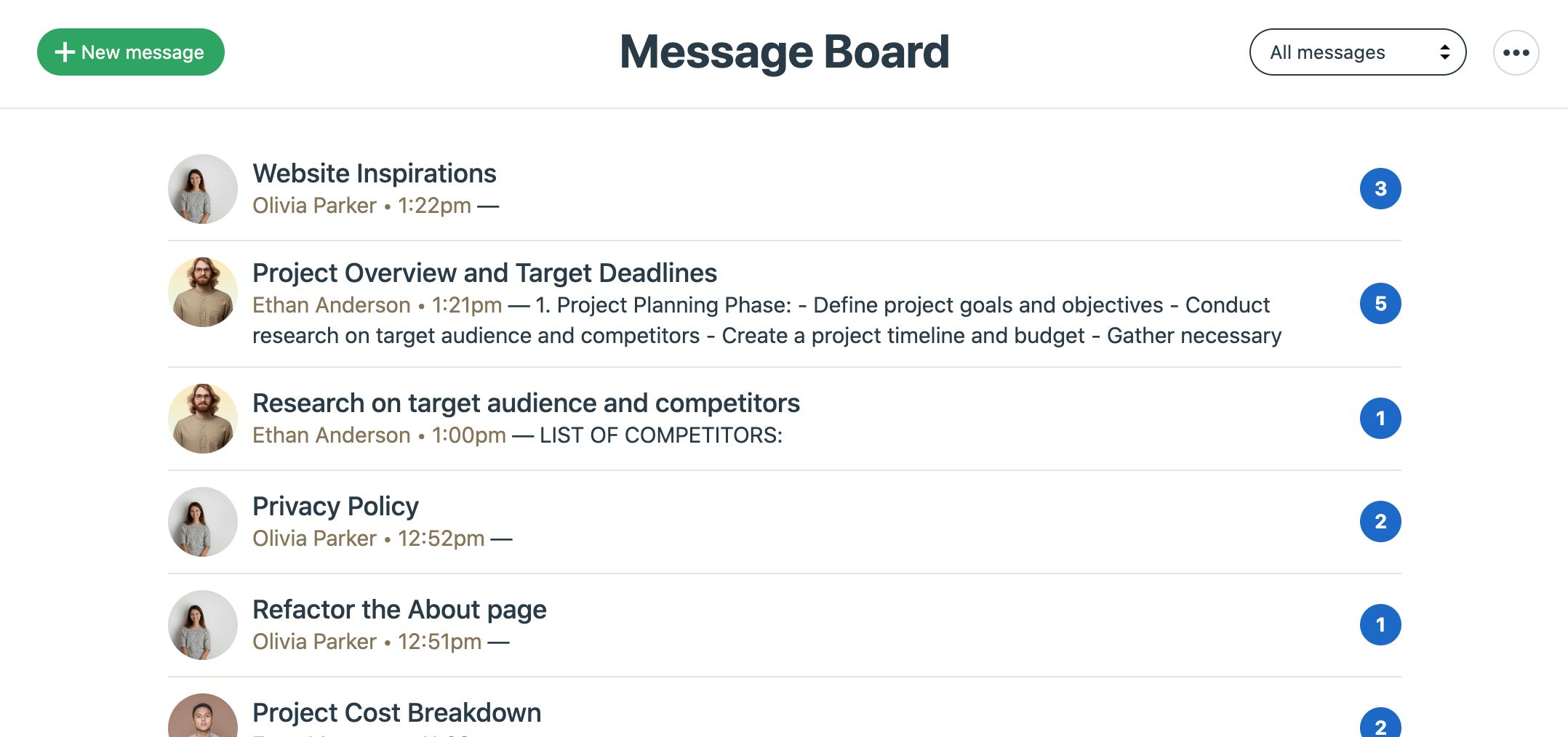 Basecamp's To-dos: For Easy Task Assignment
Whenever my clients have a task for me, they can easily assign a to-do or report an issue using a dedicated tool in Basecamp designed for this purpose. In addition, they can easily set deadlines for tasks. Having a task management tool can greatly improve productivity and organization. It not only facilitates efficient task delegation but also enables clear communication and progress tracking.
"The Campfire": For Effective Communication
If you want to increase the chances of success for your project, it is crucial to communicate effectively to your clients. With Basecamp's dedicated chatting system called "Campfire," I am able to communicate with my clients in real-time. This tool enables efficient collaboration, ensuring that I meet my client's expectations.
"Docs and Files": For Managing Project Assets
Basecamp also has file sharing capability, we can easily upload and organize files in a centralized location. This eliminates the need for cumbersome email attachments or multiple versions of documents floating around. The simple interface enables both me and my clients to quickly locate and access the files we need, saving us valuable time and effort.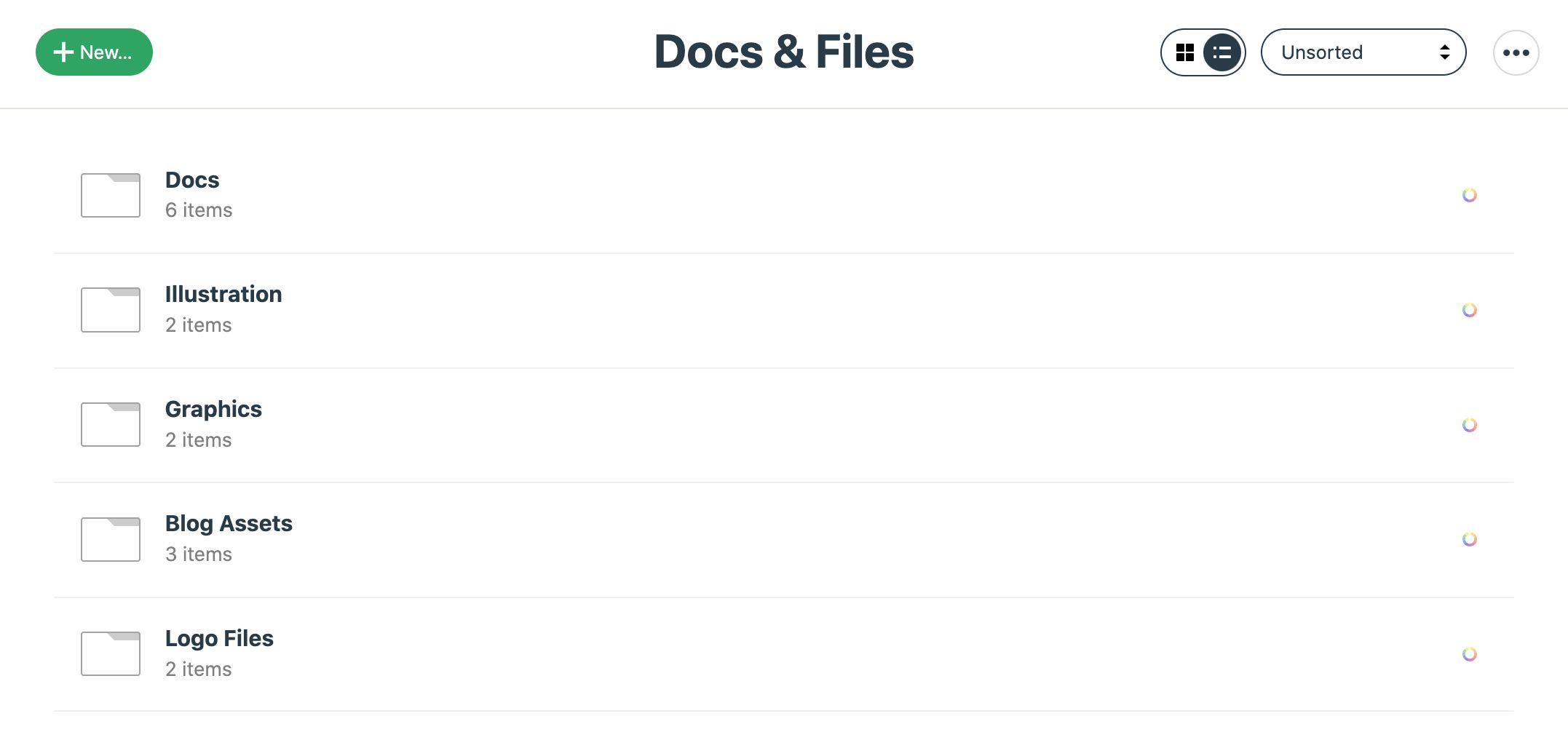 "Schedule": Easily Track Project Deadlines
Most of my tasks or projects have deadlines that I need to monitor to ensure consistent service delivery. Basecamp's schedule and calendar functions provide a solution for tracking projects and helping me stay organized. By utilizing these features, I am able to easily keep track of important deadlines, allocate tasks efficiently, and ensure that I am aware of project timelines.
Basecamp is an exceptional tool that streamlines my project and client management, offering a range of features that I find particularly beneficial. The tool's simplicity makes it accessible even for those less experienced in project management software. Its straightforward layout enables quick onboarding without compromising functionality. Overall, these major features make Basecamp a valuable asset when it comes to managing projects effectively while catering to individual client needs efficiently.
Here Are Some Noteworthy Features of Basecamp
The "Don't Forget"
Have you ever experienced being in the middle of doing something and then receiving a notification, but because you were still busy, you weren't able to reply right away? Until you finished your task, but then you forgot to reply to the email.
Then once you return to work, you receive a follow-up email asking, "Is there any update?" Honestly, I don't like this kind of email. It gives the impression that I haven't been attentive enough, even though I simply forgot about it 😅.
Being a good service provider includes being prompt in replying to concerns and emails. However, there are times when I cannot avoid delaying my reply because I need to focus on my tasks. Well, this new feature of Basecamp helps me resolve that issue.
"Don't Forget" is like a fancy way of pinning a message/notes to the most obvious location on Basecamp. If there are any pending matters or tasks that require my attention after work, I will just check this list. This will ensure that I do not overlook any important items and can respond accordingly, if necessary.
The "Lineup"
Sometimes, when working on multiple projects or tasks, it is possible to overlook deadlines. This feature allows me to have a bird's-eye view of my work, enabling me to see where I stand with my projects. It is essential to keep track of deadlines to ensure timely completion. Having this feature provides valuable insights and helps me prioritize effectively.
"Activity" Tab
The "Lineup" tab provides an overview of deadlines, while the "Activity" tab allows us to see everything that is happening and track progress. As the primary person responsible for my freelancing hustle, it is essential to have clear visibility into all aspects of my project and client activities. This will enable me to stay organized and effectively manage our workload.
The "Activity" tab is actually very helpful for multiple users working on a project. However, in my case, since I mostly work alone, I don't get to utilize this feature as much.
How Can Basecamp Help Us?
Getting organized in our daily lives can already be challenging, so why not reduce some friction in our work and make it a little easier? Well, that is exactly why I decided to add Basecamp to my work tools. With Basecamp, we will be able to easily communicate, assign tasks easily, share files, and keep everyone on the same page.
Every client has different requirements, which means that project management varies for each project. While I can't provide too many details, I can tell you this: our collaboration takes place in one convenient spot, complete with a user-friendly interface that will make our lives more convenient.
Once you choose to work with me, you will have a dedicated project board for your project(s). This will enable us to track everything efficiently and effectively, ensuring that nothing gets overlooked and allowing me to meet all your expectations.
Whether you need a website developed from scratch or want to add a new feature to your existing website, you'll absolutely love how it simplifies our work processes and helps us stay focused on what truly matters. I'm really excited about working with you and making collaboration easier than ever before!